This page contains archived content and is no longer being updated. At the time of publication, it represented the best available science.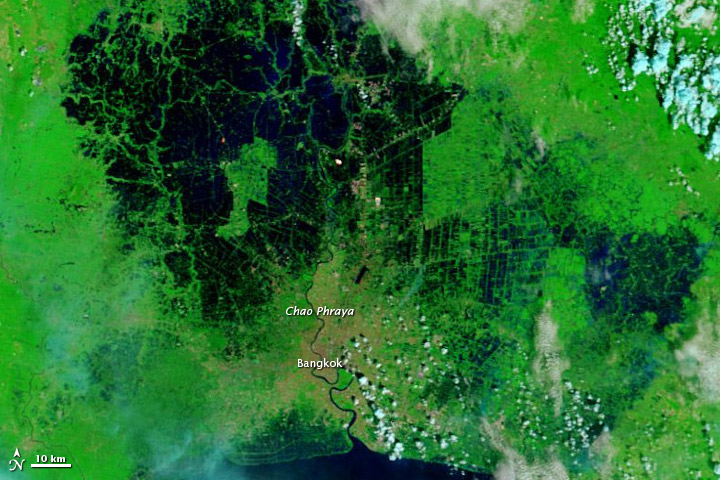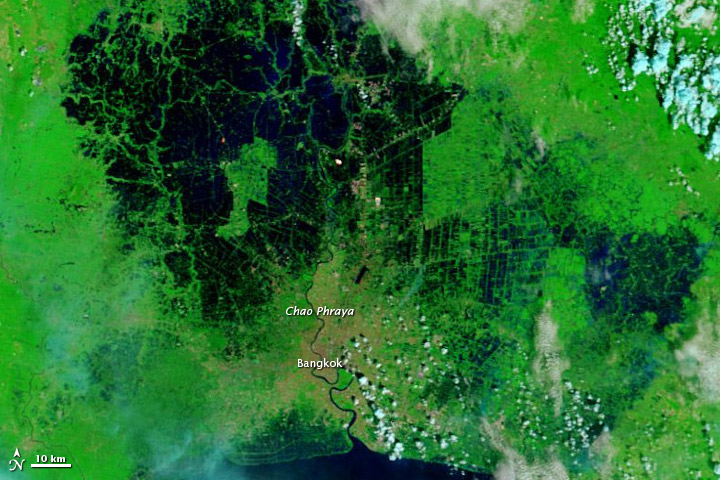 On November 7, 2011, floods surrounded two industrial estates east of Bangkok, Reuters reported. On November 9 (November 8 in the United States), Bangkok Post described desperate attempts by officials to protect the heart of Bangkok from floods as the director of the flood relief operations command warned that more water threatened to flow into the city.
The Moderate Resolution Imaging Spectroradiometer (MODIS) on NASA's Terra satellite captured these images on November 8, 2011 (top), and November 13, 2008 (bottom). These images use a combination of visible and infrared light to better distinguish between water and land. Water ranges in color from electric blue to navy. Vegetation is green. Bare ground and urban areas are earth-toned. Clouds are pale blue-green.
The image from 2008 shows relatively normal conditions in which the Chao Phraya River flows through a dry Bangkok. Three years later, water nearly surrounds the city, west to north to southeast. Floods started in northern Thailand in July and spread southward. By November 8, floods had been slowly encroaching on the Bangkok, just north of the Gulf of Thailand, for three weeks.
According to Bangkok Post, city officials were using pumps to drain overflow into the Chao Phraya River, but excess water was flowing into sewers. Sandbags were protecting the northern part of the city, but the director of the Rangsit Univerity disaster center warned that the sandbags would probably only contain flooding for several more days before water flowed over them and into Bangkok.
NASA image courtesy Jeff Schmaltz, LANCE/EOSDIS MODIS Rapid Response Team at NASA GSFC. Caption by Michon Scott.