This page contains archived content and is no longer being updated. At the time of publication, it represented the best available science.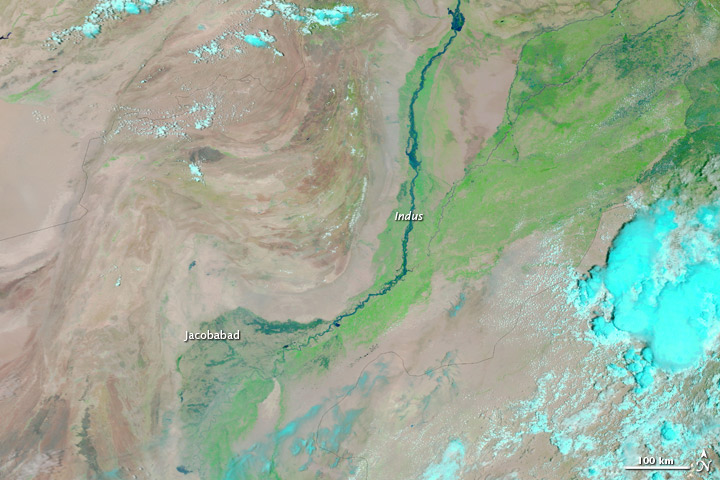 Widespread, heavy monsoon rains fell in Pakistan in late July 2010, leading to at least 90 deaths, according to news reports. The worst flooding in a century struck northwestern Pakistan, displacing several thousand residents.
The Moderate Resolution Imaging Spectroradiometer (MODIS) on NASA's Terra satellite captured these images on July 30, 2010 (top), and June 5, 2010 (bottom). The images show the lower Indus River, not far from Pakistan's coast. Both images use a combination of infrared and visible light to increase the contrast between water and land. Water appears in varying shades of blue, vegetation is green, and bare ground is pinkish brown. Clouds are bright turquoise.
Compared to the image from earlier in the month, the image from July 30 shows significantly higher water levels along the Indus River, in addition to increased vegetation throughout the region's river valleys. The Jhelum, Chenab, and Sutlej Rivers, as well as a number of smaller tributaries, feed into the Indus, and higher water levels are also apparent along those river channels. The city of Jacobabad appears inundated on July 30, and the patch of electric blue northwest of the city also suggests flooding.
According to ReliefWeb, the area in Pakistan hardest hit by flooding lies in the northwestern part of the country, almost directly north of where the Indus River curves to the west.
NASA images courtesy the MODIS Rapid Response Team at NASA GSFC. Caption by Michon Scott.