This page contains archived content and is no longer being updated. At the time of publication, it represented the best available science.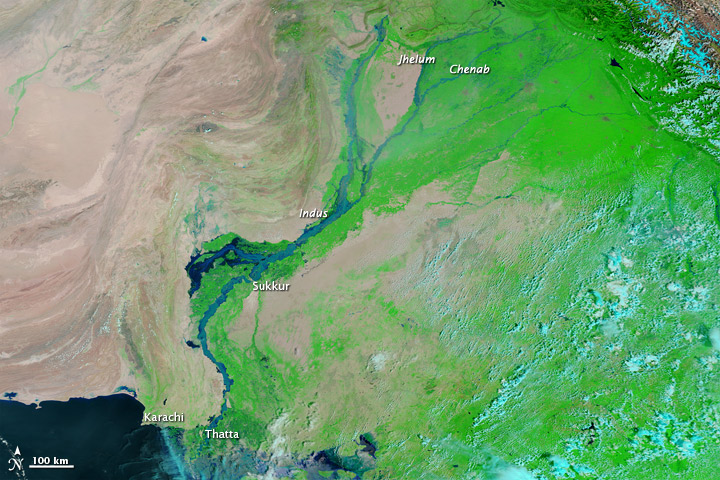 Although floodwaters had begun to recede in northern Pakistan, waters kept traveling downstream toward the Arabian Sea, according to news reports. In the southern district of Thatta, roughly 70 kilometers (45 miles) east of Karachi, floodwaters broke through an embankment, prompting authorities to order tens of thousands of residents to evacuate, Voice of America reported. Reuters reported that a new round of flooding had forced a million people altogether to flee their homes in southern Pakistan between August 25 and 27.
The Moderate Resolution Imaging Spectroradiometer (MODIS) on NASA's Terra satellite captured these images on August 27, 2010 (top), and August 28, 2009 (bottom). Both images use a combination of infrared and visible light to increase the contrast between water and land. Clouds appear in varying shades of light blue-green. Vegetation is green, and bare ground is pinkish brown. Water varies in color from electric blue to navy. The 2009 image shows relatively normal water levels along the Indus River.
In the image from August 27, 2010, flooding is most apparent in the bend in the Indus River near the city of Sukkur. The region is intensely irrigated, and floodwaters have spread over wide expanses of farmland. Flooding is also apparent near the coast. Although Karachi appears unaffected by the flooding, water levels have risen visibly around the city of Thatta.
NASA images courtesy the MODIS Rapid Response Team at NASA GSFC. Caption by Michon Scott.