This page contains archived content and is no longer being updated. At the time of publication, it represented the best available science.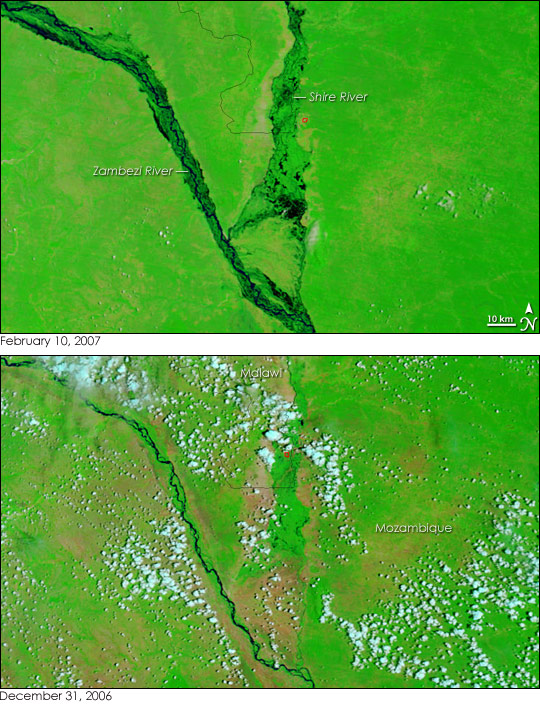 A black web of water surrounds the Zambezi River in the top image, captured by the Moderate Resolution Imaging Spectroradiometer (MODIS) on NASA's Terra satellite on February 10, 2007. Mozambique was experiencing its worst floods in six years when the Zambezi flowed over its banks in January and February 2007, reported the United Nations Office for the Coordination of Humanitarian Affairs (OCHA). As of February 12, an estimated 29 people had died and 60,000 had been evacuated from the river's banks.
Early and heavy rains fell over the entire Zambezi Basin, pushing the Zambezi and many of its tributaries into flood stage. The floods are likely to worsen as the 2,574-kilometer-long river receives water from its swollen tributaries in Angola, Namibia, Zambia, and Malawi. Releases from the massive Cahora Bassa Reservoir, which is reaching its capacity, are also expected to make flooding worse along the lower Zambezi.
These images show the lower Zambezi where it meets the Shire River flowing south from Malawi, one of the most severely affected regions in Mozambique. The top image provides a remarkably cloud-free view of the floods, while the lower image, taken on December 31, 2006, shows the region before the rains started in January. The images were made with a combination of infrared and visible light to highlight the presence of water on the ground. Water is black or dark blue, while plant-covered land is green. Bare earth is tan and pink, and clouds are pale blue and white. Fires are outlined in red. Images such as these and photo-like, true-color images are provided by the MODIS Rapid Response Team on a daily basis.
NASA image courtesy the MODIS Rapid Response Team at NASA GSFC.