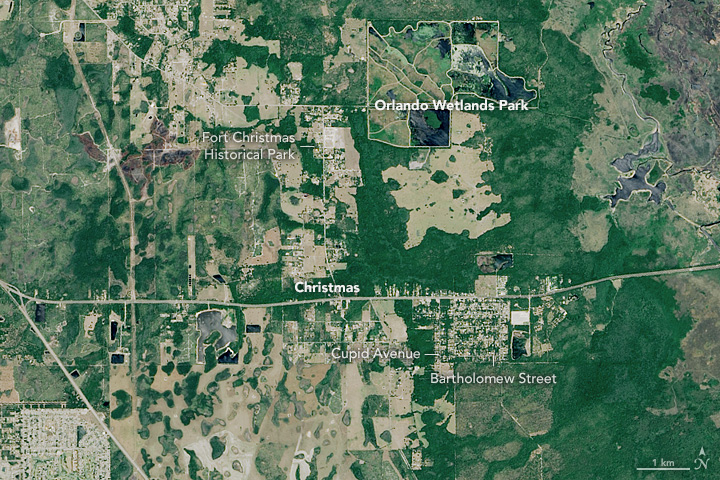 According to popular lore, Santa Claus lives at the North Pole. However, there are a few other locations that the trackers at North American Aerospace Defense Command may want to keep an eye on when they monitor Santa's whereabouts on Christmas Eve this year.
One spot is a small town east of Orlando where it is Christmas every day. That town is Christmas, Florida, a place with a special mailbox in the post office for letters to Santa. It's a a place where streets have biblical names (Bethlehem, Matthew, and Bartholomew) or reindeer-themed names (Comet, Cupid, and Blitzen), and the post office gets a surge of traffic each December from people eager to have "Christmas" postmarked on their letters.
The town's unusual name harkens back to a little known footnote in U.S. military history. During the Second Seminole War, soldiers began constructing a fort there on December 25, 1837. In the 1970s, a full-scale replica of the fort was built, and today Fort Christmas Historical Park is a popular tourist attraction.
The Operational Land Imager (OLI) on Landsat 8 captured this image of Christmas on April 7, 2017. Forested areas are dark green. Cleared areas, mainly pastures or farmland, are light green and brown. A fire appears to have charred vegetation west of Fort Christmas.
The town has a place in environmental history as well. Christmas is the site of what Orlando city officials call the first large-scale, manmade wastewater treatment wetlands in the world. Orlando Wetlands Park, once pasture land and now a 1,200 acre network of marshes, helps naturally cleanse tens of millions of gallons of wastewater each day.
By the time the water drains out of the park into St. Johns River, usually about 40 days after first arriving, native aquatic plants have filtered out many of the pollutants in the water. There were few other facilities like it when it was built in 1987, but today there are more than 2,000 similar wastewater facilities around the world (including 600 in the United States and 35 in Florida), according to Orlando Rising.
NASA Earth Observatory image by Jesse Allen, using Landsat data from the U.S. Geological Survey. Text by Adam Voiland.