This page contains archived content and is no longer being updated. At the time of publication, it represented the best available science.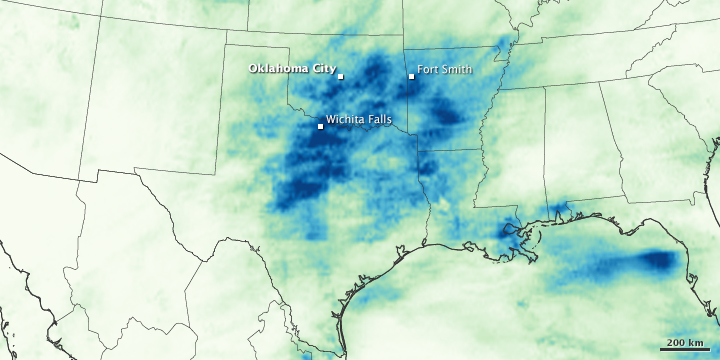 Much of the high plains and south central regions of the continental United States have been unusually dry for some time. In particular, parts of Texas and Oklahoma have been in a drought for nearly five years. In April and May 2015, the weather fortunes of those states took a turn for the other extreme.
Large swaths of Texas, Arkansas, Oklahoma, Nebraska, and Louisiana have been soaked by as much as 20 inches (500 millimeters) of rainfall in the past 30 days. Several cities are approaching their wettest May on record even though the month has ten days to go. Fort Smith, Arkansas, has already set a new record with 13.85 inches (351.79 mm) of rain in May. Oklahoma City, with 13.90 inches (353.06 mm), was approaching records for May and for any month on record. Observers in Wichita Falls, Texas, recorded 12.49 inches (317.25 mm) of rain in the first 20 days of the month. On every day from May 5–21, at least one weather station in Texas observed 4 inches (102 mm) of rainfall, according to the Community Collaborative Rain, Hail and Snow Network (and reported by The Weather Channel).
Some meteorologists pointed to a southerly bend in the jet stream over the American West, driving air masses with lift and turbulence into Gulf of Mexico moisture and producing heavy rainstorms. Other weather watchers are suggesting connections to El Niño, though it is hard to directly attribute short-term weather events to larger climate patterns without the perspective of time and data analysis.
Either way, it has been wet in the nation's mid-section. The maps on this page depict satellite-based measurements of rainfall over the continental United States from April 20 to May 19, 2015, as compiled by NASA. Rainfall totals are regional, remotely-sensed estimates, and local amounts can be significantly higher when measured from the ground.
The data come from the Integrated Multi-Satellite Retrievals for GPM (IMERG), a product of the new Global Precipitation Measurement mission. IMERG pulls together precipitation estimates from passive microwave and infrared sensors on several satellites, as well as monthly surface precipitation gauge data, to provide precipitation estimates between 60 degrees North and South latitude. The GPM satellite is the core of the rainfall observatory that includes measurements from NASA, the Japan Aerospace Exploration Agency, and five other national and international partners.
The heavy rainfall in May 2015 has led to flash floods as well as river floods. More than 100 locations reported river flooding on May 20. But there has been one positive impact: the rains have relieved the long-term drought in the region. One year ago, 90 percent of Texas was categorized as being in some level of drought, 40 percent of it extreme. At the beginning of 2015, that number was 65 percent. Now it is 30 percent drought, none of it extreme. In Oklahoma, the percentage of drought was 98 percent as recently as February; it is now down to 51 percent.
NASA Earth Observatory image by Jesse Allen, using IMERG data provided courtesy of the Global Precipitation Mission (GPM) Science Team's Precipitation Processing System (PPS). Caption by Mike Carlowicz.