This page contains archived content and is no longer being updated. At the time of publication, it represented the best available science.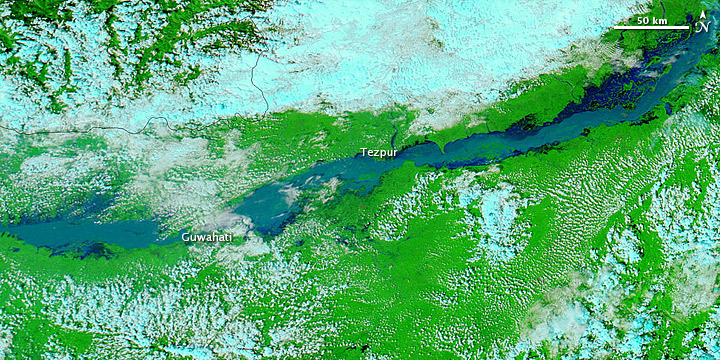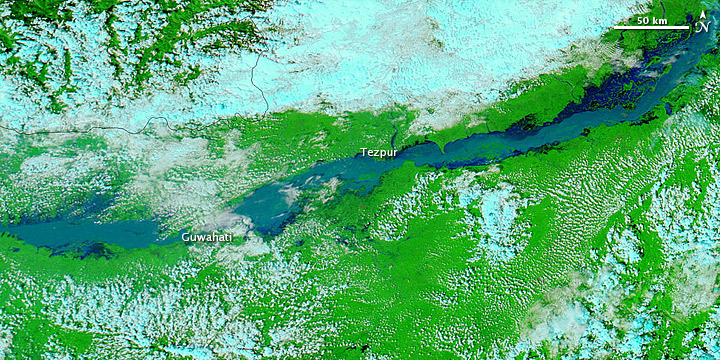 Heavy rains in northeastern India caused flash floods and landslides in September 2012, raising the Brahmaputra River over its banks. On September 25, Agence France-Presse reported that flooding had displaced as many as 1.7 million people.
These images show a stretch of the Brahmaputra, which rolls across northeastern India en route to Bangladesh. The Moderate Resolution Imaging Spectroradiometer (MODIS) on NASA's Aqua satellite captured the top image on September 25, 2012. MODIS on the Terra satellite captured the bottom image on September 29, 2011. Both images use a combination of visible and infrared light to increase contrast between water and land. Water varies in color from electric blue to navy. Vegetation is bright green. Clouds are pale blue-green.
In September 2011, the Brahmaputra River flowed through braided channels, but a year later, the channels could not be detected in the swollen river. Flooded rivers often carry heavy sediment loads, and such sediment could account for the light blue color of the river in September 2012.
The flood affected settlements along its banks, including Tezpur and Guwahati. The Times of India reported that the Brahmaputra "was flowing well above the danger level in Guwahati" on September 23. Meanwhile, military helicopters dropped packages of food and drinking water to displaced residents.
NASA image courtesy LANCE MODIS Rapid Response Team at NASA GSFC. Caption by Michon Scott.