This page contains archived content and is no longer being updated. At the time of publication, it represented the best available science.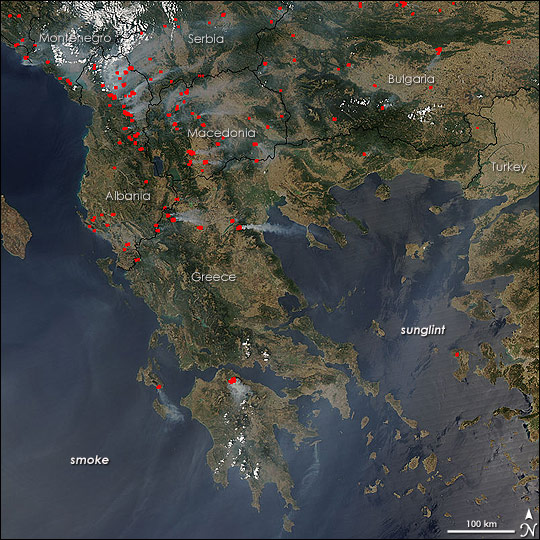 Scores of large fires dotted the Balkan Peninsula on July 25, 2007, when the Moderate Resolution Imaging Spectroradiometer (MODIS) on NASA's Aqua satellite captured this photo-like image. The fires, represented by red dots, pumped out thick plumes of smoke that blanketed the region with haze. A thin, white-gray pall of smoke hangs over the Ionian Sea southwest of Greece, and additional smoke covers the Black Sea in the northeast (visible in the large image). The Aegean Sea to the east of Greece likely also had smoke-filled skies, but sunlight reflecting off the surface of the water masks the haze from view in this image. Aqua MODIS observed additional large fires in Italy on July 24.
The fires caused a state of emergency in Macedonia, and Greece put its northern forests under constant watch fearing further fire outbreaks, reported BBC News on July 25. The fires were fueled by extreme, desiccating heat starting in mid-July. Super-hot air pushed north from Africa and settled over much of southeastern Europe, where temperatures climbed above 40 degrees Celsius (104 Fahrenheit). As many 500 died in the heat in Hungary (north of the area shown here), and the high demand for power caused black-outs in Greece, Kosovo, and Montenegro, said the BBC.
The large image provided above is at MODIS' maximum resolution of 250 meters per pixel. The image is available in additional resolutions from the MODIS Rapid Response System.
Image courtesy Jeff Schmaltz, MODIS Rapid Response Team at NASA GSFC.