This page contains archived content and is no longer being updated. At the time of publication, it represented the best available science.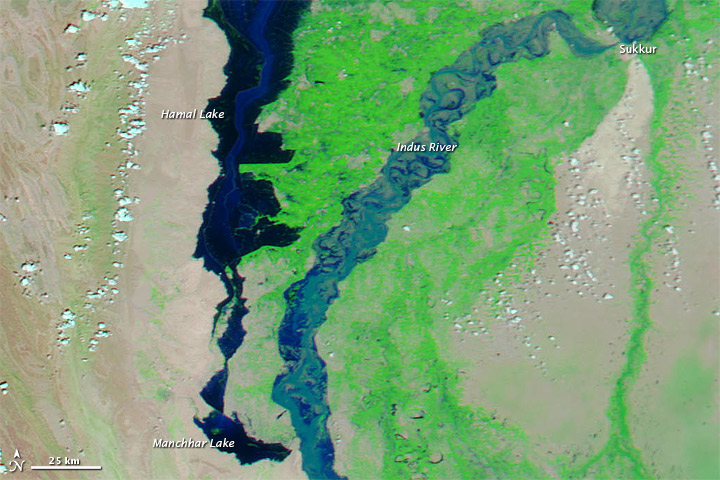 In early September 2010, floodwaters continued rising along a massive water body that branched off from Indus River. Reuters reported that embankments intended to protect settlements in Pakistan's traditional floodplains had begun to channel water into new areas, including Manchhar Lake (also spelled Manchar).
Acquired by the Moderate Resolution Imaging Spectroradiometer (MODIS) on NASA's Aqua satellite, these images show waters rapidly rising between Hamal Lake and Manchhar Lake. The top image is from September 7, 2010, and the bottom image is from September 13, 2010. Both images use a combination of infrared and visible light to increase the contrast between water and land. Water ranges in color from electric blue to navy. Vegetation appears bright green. Bare land ranges from pink-beige to brick red. Clouds appear pale blue-green.
Both images show severe flooding off the Indus River, but compared to the image acquired just six days earlier, the image from September 13 shows higher waters extending from Hamal Lake southward to Manchhar Lake. Southeast of Hamal Lake, an area of relatively dry land pushes westward on September 7. On September 13, the same area is underwater. The waterway between the two lakes is wider on September 13, and Manchhar Lake is visibly swollen.
The Main Nara Valley Drain connects Manchhar and Hamal, and a network of canals in turn links Manchhar Lake to the Indus River. The eastern edge of Manchhar Lake is about 2 kilometers from the swollen Indus River.
In these images, the water appears lighter in color in the Indus River than in the floodwater lake. Although the darker color in the floodwater lake suggests greater depth, the lighter color in the Indus River might result from a greater amount of sediment being carried through the channel.
On September 10, Agence France-Presse reported that continuing rains hampered rescue and relief efforts in southern Pakistan. On September 13, Reuters reported that the monsoon floods of 2010 were Pakistan's worst natural disaster in terms of damage. More than 6 million people had been displaced, and 20 million people had been affected in some way.
NASA images courtesy MODIS Rapid Response Team at NASA GSFC. Caption by Michon Scott.