This page contains archived content and is no longer being updated. At the time of publication, it represented the best available science.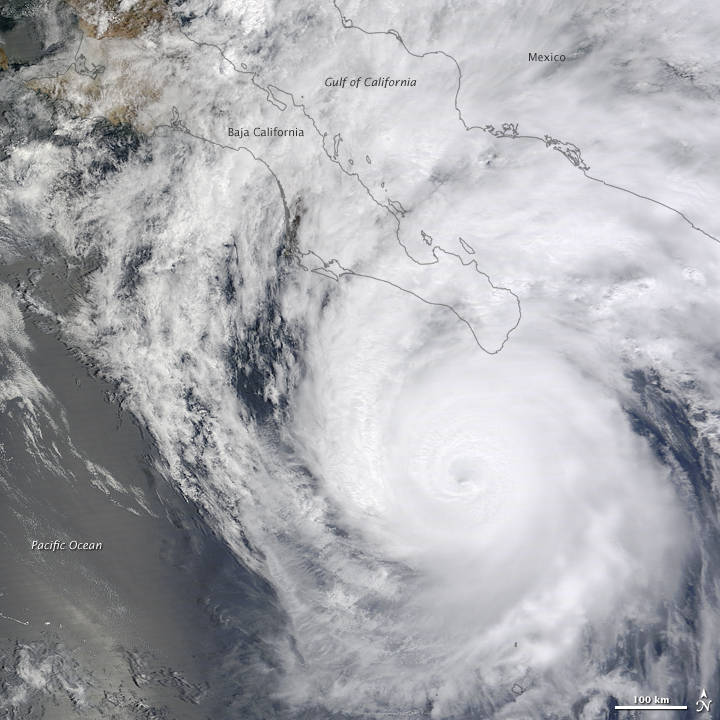 Hurricane Jimena had weakened slightly, becoming a Category 4 Hurricane just before the Moderate Resolution Imaging Spectroradiometer (MODIS) on NASA's Terra satellite captured this image at 11:35 a.m. Pacific Daylight Time on September 1, 2009. The powerful storm has well-defined bands of clouds that circle a distinctive eye in this photo-like image. The outer bands of the storm were already over the southern tip of Baja California. The National Hurricane Center expected Jimena to move north along the peninsula before coming ashore on September 2 or September 3.
At the time this image was taken, Jimena had winds of 215 kilometers per hour (135 miles per hour) with stronger gusts, said the National Hurricane Center. The storm was expected to bring heavy rain—up to 15 inches in some locations—a dangerous storm surge, and battering waves to Baja California.
The high resolution image provided above is at MODIS' maximum resolution of 250 meters per pixel. The MODIS Rapid Response System provides the image in additional resolutions. The image has been rotated 17 degrees to the east.
NASA image courtesy Jeff Schmaltz, MODIS Rapid Response Team at NASA GSFC. Caption by Holli Riebeek.