This page contains archived content and is no longer being updated. At the time of publication, it represented the best available science.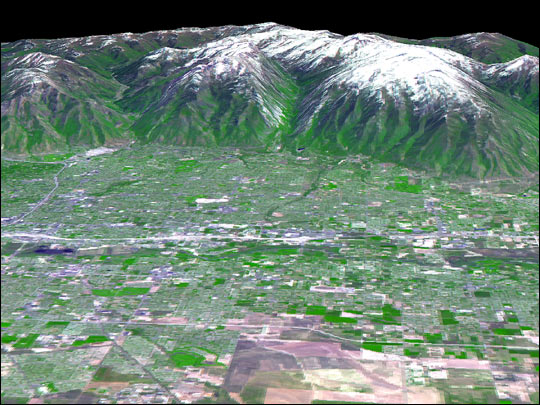 The 2002 Winter Olympics are hosted by Salt Lake City at several venues within the city, in nearby cities, and within the adjacent Wasatch Mountains. This 3-D perspective view, in simulated natural colors, presents a late spring view over Salt Lake City towards the snow-capped Wasatch Mountains to the east. The image was created by draping Advanced Spaceborne Thermal Emission and Reflection Radiometer (ASTER) image data over digital topography data from the US Geological Survey's National Elevation Data.
This image was acquired on May 28, 2000, by ASTER on NASA's Terra satellite. With its 14 spectral bands from the visible to the thermal infrared wavelength region and its high spatial resolution of 15 to 90 meters of about 50 to 300 feet, ASTER will produce images of the Earth for the next six years to map and monitor the changing surface of our planet.
ASTER is one of five Earth-observing instruments launched December 18, 1999, on NASA's Terra satellite. The instrument was built by Japan's Ministries of Economy, Trade and Industry.
The broad spectral coverage and high spectral resolution of ASTER will provide scientists in numerous disciplines with critical information for surface mapping and monitoring dynamic conditions and temporal change. Example applications are: monitoring glacial advances and retreats; monitoring potentially active volcanoes; identifying crop stress; determining cloud morphology and physical properties; wetlands evaluation; thermal pollution monitoring; coral reef degradation; surface temperature mapping of soils and geology; and measuring surface heat balance.
Size: View width 15 km ( 9.2 miles); view distance 12 km (7.3 miles)
Location: 40.7 deg. North lat., 111.9 deg. West long.
Orientation: North at top
Image Data: ASTER bands 1,2, and 3.
Original Data Resolution: 15 m
Date Acquired: May 28, 2000
More satellite images of Salt Lake City Olympics are located at these sites:
NASA Images Capture Golds, Silvers and Bronzes of Utah Olympic Site
Citius, Altius, Fortius.
Image courtesy NASA/GSFC/MITI/ERSDAC/JAROS, and U.S./Japan ASTER Science Team