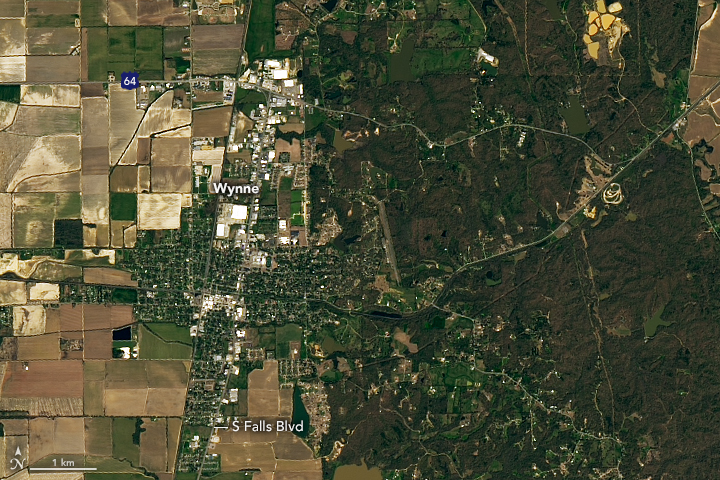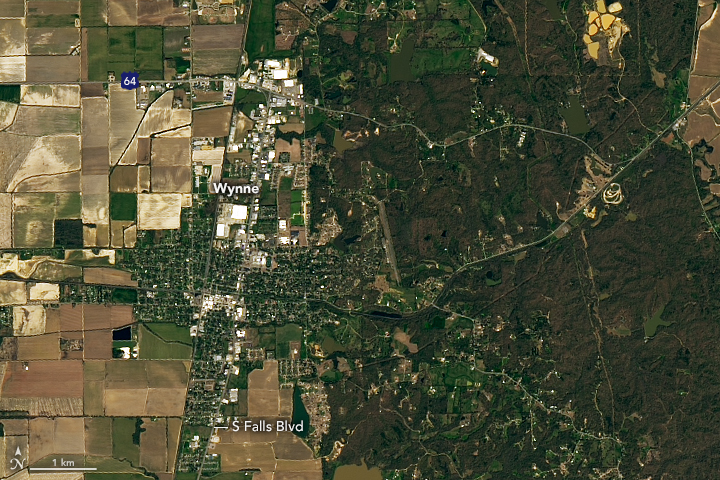 On March 31, 2023, severe thunderstorms tore through the U.S. Midwest and Mid-South where they spawned dozens of tornadoes across seven states. Some of the hardest-hit areas were in Arkansas, including the town of Wynne.
The storms occurred as warm, moist air ahead of a low-pressure system collided with cold air descending behind it. In Arkansas, a storm with rotating updrafts (supercell) closed in on Little Rock in the afternoon of March 31. Preliminary reports indicate that the storm produced an EF3 tornado, with peak winds of 165 miles (265 kilometers) per hour, that tracked for nearly 32 miles across the city. Several hours later, a second supercell storm produced a tornado that tracked across Wynne—a town located about 90 miles northeast of Little Rock. Preliminary reports indicate that this storm was also an EF3.
The path of damage across Wynne is visible in this natural-color image (right) acquired on April 1, 2023, with the Operational Land Imager-2 (OLI-2) on Landsat 9. According to news reports, the deadly twister damaged businesses and homes, snapped trees, and shredded the roof of a school. The other image, acquired with the OLI on Landsat 8, shows the same area on April 3, 2021.
The outbreak of tornados on March 31 came one week after deadly tornadoes swept through Mississippi and Alabama. Both events follow an outbreak of tornadoes in January 2023 that hit central Alabama particularly hard.
According to The Washington Post, the 2023 calendar year has so far been a busy one for tornado activity in the United States, with January, February, and March all seeing more tornadoes than usual. Tornadoes occur most often in spring and summer in locations east of the Rocky Mountains and west of the Appalachian Mountains. Still, such storms have occurred in every U.S. state and can happen any time of the year.
NASA Earth Observatory images by Lauren Dauphin, using Landsat data from the U.S. Geological Survey. Story by Kathryn Hansen.