More than two weeks after it ignited, the Dixie fire continues to burn in Northern California, east of the city of Chico. The fire has consumed more than 240,000 acres of timber and chaparral in Butte and Plumas counties and in Lassen National Forest. It is the largest wildfire in California in 2021 and 11th largest in state history.
The Dixie fire has destroyed 64 homes, businesses, and buildings and damaged eight others while marching across nearly 375 square miles (970 square kilometers) of rural and semi-rural land—an area larger than the city of San Diego. The fires are burning just a few miles from areas that burned in the horrific Camp fire of 2018.
The images above were acquired on July 29, 2021, by the Moderate Resolution Imaging Spectroradiometer (MODIS) on NASA's Terra satellite. The false-color image on the right uses a combination of visible and infrared light (MODIS bands 7,2,1) to help distinguish smoke (cyan blue) from clouds (white). Burned vegetation and scars from previous fires appear brown and unburned vegetation appears bright green. Bright red-orange indicates visible fire fronts.
According to Cal Fire, 23 percent of the fire perimeter was contained by the morning of July 30. More than 5,900 firefighters and support personnel were working to control the blaze. Weather conditions remained hot and very dry, with humidity levels in the teens. Smoke and haze have lingered in many valleys, making air quality poor.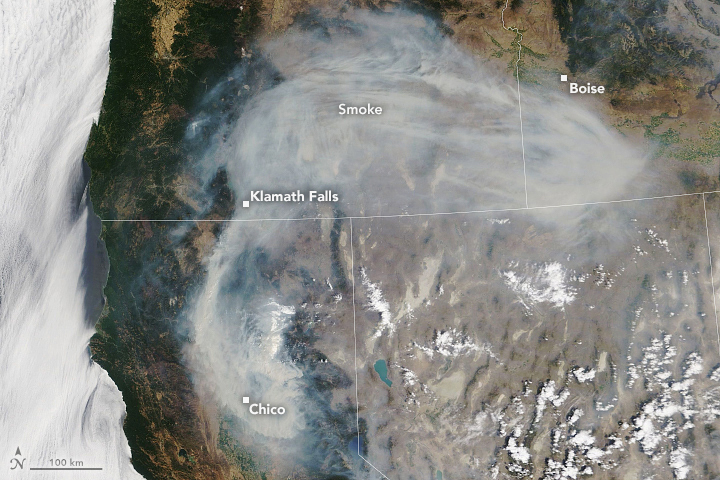 In the late morning on July 24, 2021, the Moderate Resolution Imaging Spectroradiometer (MODIS) on NASA's Terra satellite acquired this natural-color image of the expansive smoke plume from the fire and others in California and Oregon. Use NASA Worldview to view a time-lapse of the fire since it began on July 13.
NASA's Earth Science Applied Sciences Disasters team has been coordinating with and providing data to other federal and state agencies that manage fire response. One of their sponsored efforts includes the production of experimental smoke forecast maps using the Weather Research Forecasting–Spread FIRE (WRF-SFIRE) system.
NASA Earth Observatory image by Lauren Dauphin, using MODIS data from NASA EOSDIS LANCE and GIBS/Worldview. Story by Michael Carlowicz.