This page contains archived content and is no longer being updated. At the time of publication, it represented the best available science.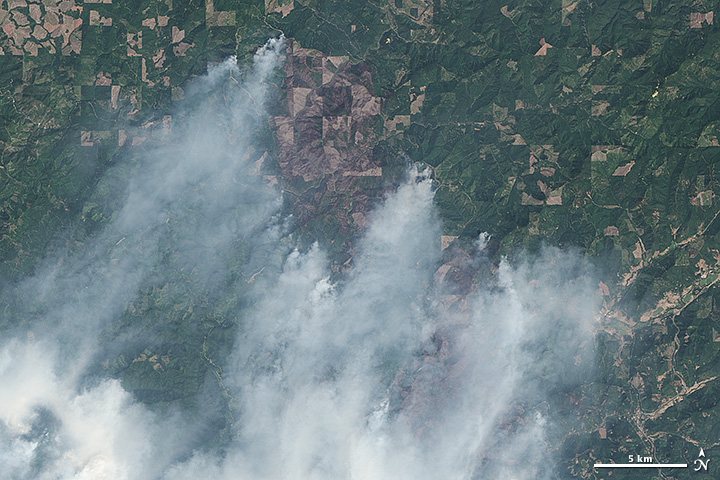 In late July 2013, thunderstorms passed over southern Oregon with lightning that ignited numerous difficult-to-control wildfires. Persistently dry weather since the beginning of 2013 had primed forests to burn, and nearly all of southern Oregon was in a state of severe or moderate drought. In early August, forecasters were expecting the situation to worsen.
On August 4, 2013, the Operational Land Imager (OLI) on Landsat 8 captured this image of smoke rising from the Big Windy Complex fire in southern Oregon. Plumes of smoke were blowing south; burned areas appear gray. The brown patterns on the upper part the image are forested areas that have been cut and are at different stages of regrowth. The image is centered at 42.801° North and 123.592° West.
References and Further Reading

InciWeb (2013, August 6) Big Windy Complex. Accessed August 6, 2013.
Mail Tribune (2013, August 6) Lengthy fire fight expected. Accessed August 6, 2013.
National Interagency Fire Center (2013, August 30) Year-to-date Statistics. Accessed August 6, 2013.
University of Nebraska (2013, August 6) U.S. Drought Monitor: Oregon. Accessed August 6, 2013.
NASA Earth Observatory image by Jesse Allen and Robert Simmon, using Landsat data from the U.S. Geological Survey. Caption by Adam Voiland.