This page contains archived content and is no longer being updated. At the time of publication, it represented the best available science.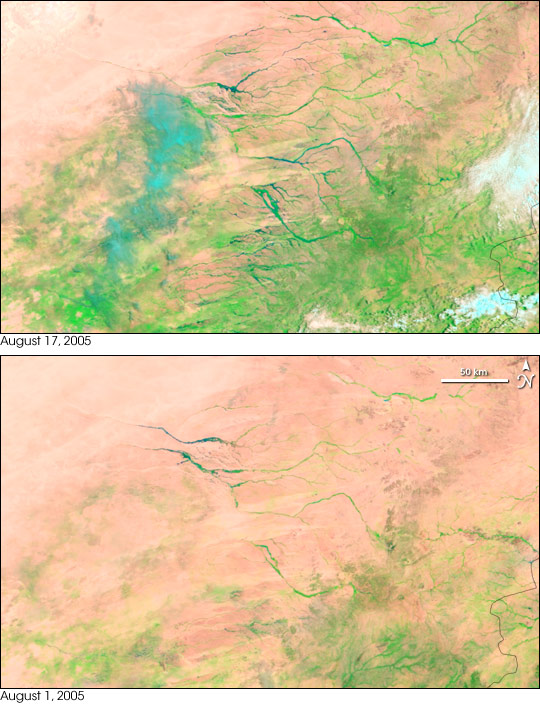 After a year of poor rainfall, the summer rainy season of 2005 is bringing plenty of moisture to Africa's Sahel. This tropical grassland grows beyond the southern edge of the Sahara Desert and is an important crop region in Africa. Summertime rains have been heavy in 2005, triggering floods across the continent, such as these in eastern Chad. The top image shows wadis (seasonal riverbeds) that have filled with water during the first half of August. The rainfall has also brought a fresh brush of green to the landscape as plants begin to grow and spread.
The rainfall has not been entirely beneficial. Several countries have experienced damaging floods. Though no problems were reported in Chad, floods in neighboring Sudan and the Central African Republic have forced widespread evacuations.
The Moderate Resolution Imaging Spectroradiometer (MODIS) on NASA's Terra satellite captured both of the above images in August 2005: the top image on August 17 and the lower image on August 1. The images are shown in false color, and water is dark blue, clouds are light blue, bare land is a pinkish tan, and vegetation is bright green.
NASA images created by Jesse Allen, Earth Observatory, using data obtained from the MODIS Rapid Response team.